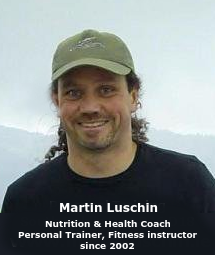 Martin Luschin has been working in the fitness and health industry as Personal Trainer, Fitness, Pilates and Kettlebell Instructor in South Dublin, Ireland since 2002.
He changed career in 2002 after a lifelong passion for fitness and exercise ( competitive long distance, cross country running and triathlon 1990-2010, soccer and track & field as kid and teenager, in between Yoga, Pilates, Tai Chi, Aikido – a bit Juggling and nowadays mainly a mix of Kettlebells, Pilates, Core Strength, Body-Weight Exercises and Functional Exercises i.e. TRX).
Martin owned and managed a Fitness Studio – "Fitnecise Studios" in Churchtown Village, Dublin 14, Ireland September 2009 –July 2015. He and a team, of five other fitness and Pilates instructors, offered various fitness and exercises classes e.g. Pilates, Yoga, Kettlebells, HIIT (High-Intensity Interval Training), Capoeira, Circuit Training, Mindful Movement etc.. Various health therapists used the studio space to provide injury treatments, diet and nutrition advice and other health and well-being related services.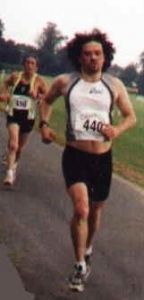 He closed his studio in June 2015 to concentrate more on
(1) Personal Training with the focus on a combination of Fitness, Health, Well Being and
Diet/Nutrition rather fitness on its own.
(2) local classes  to where he lives, in Leopardstown (Heights) / Sandyford, Dublin 18, D18
(3) an online fitness business
(4) Learning more about Nutrition, Diet and Health (attended a one-year-long Nutrition Coaching Course 2015/2016)
From summer 2015 until Mid March 2020 Martin taught various Fitness, Pilates and other Exercise Classes in local Community Hall, Parish Centers and Sport Centres in the greater South Dublin area ( Sandyford, Leopardstown, Rathfarnham, Dundrum, Glencullen, Enniskerry and nearby suburbs ) and still offered some One-to-One & Personal Health & Fitness Coaching.
During that time he started gradually to establish a niche for himself.
This being specific classes for
Men/Guys Only Fitness and Pilates classes (sorry no ladies allowed)
Over 60s Health & Well Being Classes for women and men (the class participants age ranges from early sixties to mid-eighties).
Mid-Morning Pilates Classes and
Golfers / Golf-Club Specific Core Strength and Pilates Classes.
He worked as Hard and Software design engineer with a Leopardstown, Dublin 18, Ireland based company (S3 Silicon & Software Systems) from 1997 until 2002. In 2002 he qualified as Personal Trainer and Fitness Instructor with the NTC (National Training Centre) off Dorset Street in Dublin City Centre.
Here some of the Fitness, Nutrition & Health Qualifications he attained in the last eighteen years:
Personal Trainer &  Fitness Instructor – 2002, NTC, National Training Centre, Dublin
Pilates Instructor – Level 1 – 2003, NTC, Pilates Institute Ireland
Nutrition Course – 2003, University Luton, UK and NTC
Pilates Instructor – Level 2 – 2005, NTC, Pilates Institute Ireland
Pilates on the Ball – 2007, NTC, Pilates Institute Ireland
Pilates for Special Populations – NTC, Pilates Institute Ireland
Spinning Instructor – Reebok Ireland
GymStick Instructor – GymStick Ireland
Kettlebell Instructor – 2014  NTC, National Training Centre Dublin
Nutrition & Health Coach – 2015-2016, IINH Irish Institute for Nutrition & Health Bray (since July 2016)
Non-Fitness, Nutrition & Health-related Qualifications:
BEng Telecommunication and Electronics 1992 – 1997, Technical University Constance, South Germany
NLP – Neuro-Linguistic Programming – 2004, NLP Training Institute Ireland.
Telecommunication Electrician – 1986-1989, German Telecom (former Deutsche Bundespost)
Other Interests include:
Psychology and the amazing and wonderful workings of the mind and brain.
Continuous Education, Learning and Reading
Hill Walking
Webdesign – mainly WordPress and HTML) and other techie stuff, I will never stop being an engineer 🙂
Mind Mapping
Mnemonics, Speed Reading, Photo Reading
Self, Time and Energy Management
And the never-ending question "What makes us tick?" and "What allows some people to succeed, where others just get by?" … attitude, perception and our paradigms …