From Monday 5th July 2021 onward, group-indoor classes are allowed to take place, according to the recent government announcement in Ireland.
I was already in touch with various previously used exercises, fitness and Pilates class venues in the greater south Dublin area and waiting to hear back from them regarding room and hall availability. I hope to hear back from the various venue managers in the next one or two weeks.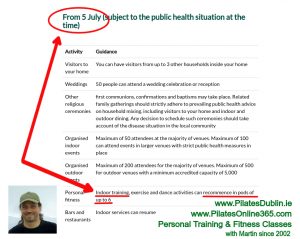 In parallel to that, I plan to contact current online and previous in-person class participants to see who would be interested in attending local in-person classes again.
Indoor in-person classes will take place in  South Dublin (1) Belarmine Community Centere, Dublin 18, beside Aiken Village, Stepaside Dublin 18, (2) Taney Parish Centre, Dundrum, near the Dundrum LUAS Bridge, (3) Sandyford Community Centre, Dublin, Lambs Cross.
E-mail, Text, Whatsapp or Call (leave a message) if you are interested in in-person indoor or possibly outdoor group classes or personal training, personal coaching.
Stay Pro-Active, Stay Fit & Stay Healthy!
_ Martin